White-hat SEO (We're the good guys)
We focus on following the rules that Google has created for SEO. This includes staying away from keyword spamming (having a specific keyword repeated throughout a page). We write quality content that we optimize for SEO; we don't write SEO content. Even though bending or breaking the rules could get us short-term gains, we focus on long-term strategies that will be unaffected by Google algorithm changes focused on combatting internet spam.
Keywords
Use Google Trends  to find relative keywords that people are searching for.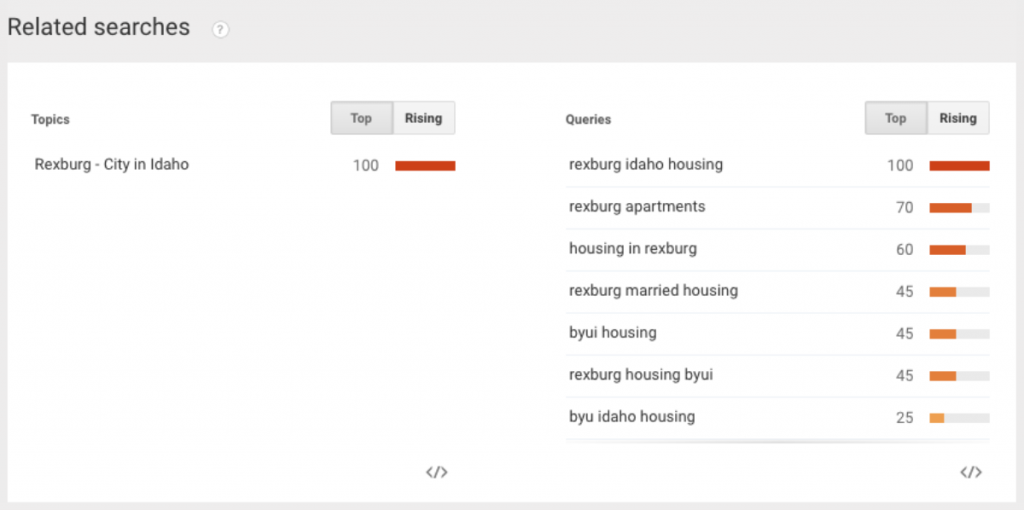 If you search using the keyword "Rexburg housing," you see that people are also searching for "married housing Rexburg" and "BYUI housing." You can continue to search through these two terms to find even more keywords. If you search for "BYUI housing," you will additionally find "BYUI approved housing." We want to focus on these longer keywords, called long-tail keywords, instead of a keyword like housing.
You can also just perform a Google search for "BYUI approved housing," and then scroll down to the bottom of the page and find relevant keywords for that topic in the "Searches related to…" section.

These keywords can then be used as topics to focus around in social or blog posts. Use the specific keyword only once, but then intermingle synonym keywords throughout the copy. If you write about "BYUI approved housing," you might also want to include keywords like "BYU-Idaho apartments," "student housing," and "Rexburg, ID." These all help Google make sure that you are actually talking about the original keyword and that you are really a business in your local area. Besides just mentioning the city the business is based in, it is also a good idea to reference other local landmarks and communities. In this example I might also add the keywords "St. Anthony" or "Archer." Having these three close cities and BYUI in one social or blog post is an easy sign for Google to pinpoint your location.
Images
All images need to be renamed to describe the image. This filename could be a place to add keywords, when appropriate. In between words you also need to include a hyphen ( – ). When creating a filename, ask yourself, "if the image doesn't load correctly, what text would convey the meaning accurately?" For example, a picture of a dog on The Village's website would have the filename "pet-friendly-housing."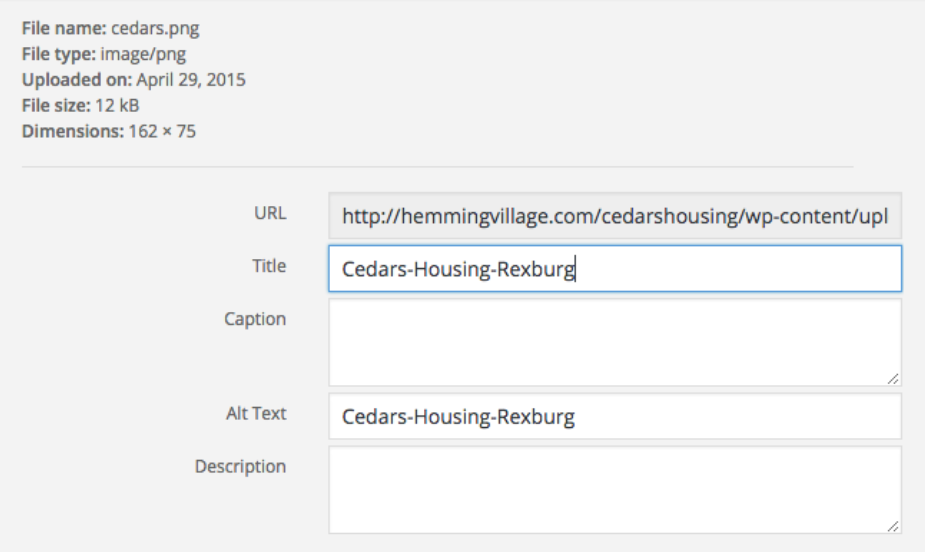 If you upload an image to one of our client's websites, you also need to add a title and alt text (short for alternate). The filename, title, and alt text do not necessarily have to be different, just applicable. The filename is the name people see if they download the image. The title is viewed by hovering over the image, and the alt text is displayed if the image fails to load. These rules apply to all images that we use, whether on social media, blog posts, or on a website.
Copy
The copy (blog, social, and web) we write needs to be focused with one keyword in mind. We use images and other media to build on this using targeted filenames. We are not just trying to create random content to fill our quota for the day, but using it as a source for SERP (search engine results page) growth. For example, If Curtis was going to write a blog post for The Village (which he is) then he should find an appropriate keyword to target. He might try to target "Married Housing Rexburg" (a tricky keyword for The Village to rank for). He could do this by writing a blog post about BYUI students transitioning to married life and coping with some of the challenges (one of which could be housing). To accurately target the specific keyword he could write copy like, "One problem with transitioning from single life is learning about options for 'married housing. Rexburg' has many options…" You should be able to incorporate the keyword in a way that flows naturally, and is designed for humans (not just computers) to read. Apply the rules of keyword usage like using synonyms and local terms to increase SERP growth.
Links
Know what you need to link to and how to link to it when creating content. Don't feel like you are forced to always have a link to a website in your content. It should be natural; if a link to more information would be appropriate then add it. You should link to the exact page that would be helpful and not just the homepage of a website. Periodically adding links to the website associated with the content being created strengthens Google's perception of the website. This linking can have an affect on SEO. You should not always link to the website, however. Find other third-party sites that link to the main site, like Yelp, YP, etc.
When creating a link it is important to use the correct anchor text. If you are creating a link to The Dealio's website, don't just type Click Here. Instead try to use relevant keywords as the linking text, like Daily Deals on Local Meals or Idaho's Top SEO Strategist. This will help Google to know exactly what the website is about.