Reputation Management
Safeguard Tools, Online PR, Reviews
What is Reputation Management?
As the old adage goes, "The customer is always right." But what happens when your business receives a scathing review that simply isn't accurate? That's where reputation management comes in. Our team handles those fires as soon as they come in. We then speak with the customer to hear their concerns and address them accordingly.
Protecting Your Brand
Your brand is important. We want to make sure your reputation is satisfactory. Our team provides safeguard tools and online PR to ensure that your brand is protected. We manage and receive notifications for anything that happens with your brand online and work quickly to put out any fires. Quick response and positive affirmation provides your customers with trust and satisfaction in your brand.
Tools to Receive Positive Reviews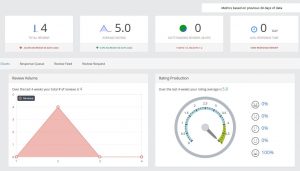 It's no secret that satisfied customers tend to happily go on their way after a good experience, while unsatisfied customers will look for every opportunity to make their dissatisfaction known. So, how do you prompt people with positive experiences to leave reviews?
Often it just takes a little nudge and happy customers will happily share their glowing reviews. We provide a tool that helps to automate and track this process. Send a text or email to customers giving them an opportunity for feedback. Only those who indicate they had a good experience will be asked to leave a review, while those with sub-par experiences will be allowed to send feedback directly to you.
Generate Reviews
Track all your social networks
Respond to reviews from each network
Keeping Customers Happy
Nobody enjoys seeing a negative review. But negative reviews are not completely bad. These are actually an excellent way to address customer concerns. In the past, a consumer may have had a poor experience and never returned. Now, we can quickly contact an upset customer and try to salvage their opinion of our business. This type of management shows that your business cares about their customers.
Keeping Up with the Competition
It's not uncommon for customers to search out reviews before making a final decision. We want to make sure your online reputation is as clean as your establishment! When someone leaves a negative review, we'll quickly address the issue and try to resolve any customer complaints. Keeping your reviews positive and high encourages others to trust your brand.
24/7 Support
Customers like to see a response as soon as a negative comment is posted. We understand that running a business keeps you busy. Let us take care of those issues as soon as they arise! You can be on vacation knowing that your brand is protected 24 hours a day, 7 days a week.