Everyone knows that the organic reach from a Facebook page is just about nothing – I recently read a study claiming that, on average, only about 7% of the people that like your page will see the post. This number, I'm sure, drops even more as people stop engaging with your content. This is why Facebook groups are so powerful. Everyone, or at least a large majority see your post, and depending on how good you are at niche-matching your business to Facebook Groups you'll see a huge increase in engagement and website visits (even more than a boosted post). The only downside is that it requires you to post as your personal account and bypasses the company's official Facebook page (you will not likely get many page likes through this strategy).
How to Find the Right Groups
This is where your individual expertise about the ideal audience for your client comes into play. For example, Beehive only serves LDS members, so correct groups would be ones that LDS members in the area are drawn to. How about a more difficult one? What about The Village apartments? I found a group called "Housing and Rooms in Rexburg." I just looked through some of the groups with Rexburg as a keyword and found it. The group doesn't need to be that specific, Taylor Chevrolet might want pictures of some show cars they own to be posted to a car enthusiasts group. Merrill Landscaping might find gardening groups. Idaho Foot & Ankle Center might find running groups. Find a group where your business's product/service/expertise would be a welcome addition to the conversation, and then post useful content.
So, here we go (make sure you are logged in as your personal account).
1. Type in your keyword(s).
2. Before you search, head to the bottom and click "See all results for 'keyword(s)'."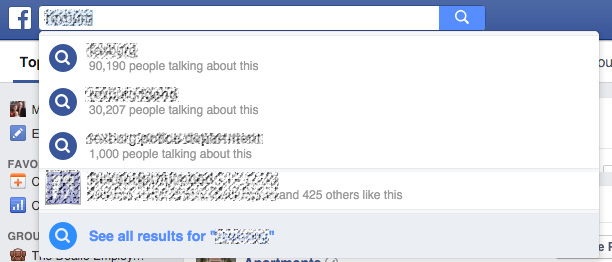 3. On the top, above the results, click "Groups."
4. Find a group that matches you niche and join (Don't be afraid of closed groups. No one knows that you are marketing, and if you do your job correctly, they'll never know). Don't forget to look at the group member counts, that may help you to decide whether to join or not.

Stay Organized
If you find many groups, or are using this strategy for several businesses, you'll notice that your "Groups" tab becomes nearly useless, and your news feed becomes flooded. Make sure to set notifications to the appropriate level.
Also you might think about organizing your groups in spreadsheet organized by business so you can quickly open them. You could also bookmark all of the groups for a business, and then use folders on your bookmarks bar to open them all.
Expectations
Don't be surprised if you get banned from some groups, or if it takes weeks for the admin to approve your admittance to the group. Make sure, however, that you are reading the rules of the group and that your posts bring value. At first your results might be average, but as you hone your diplomatic skills you'll see huge returns. From there the limiting factors are the number of groups you post to and the number of people in each group.
Post Type
Research that I have read as well as my own tests have shown that link posts that have a nice picture get the most engagement. I used the Google URL Builder to create a trackable URL, shortened it, and then it pulled the featured image from that page on my website to use as the picture.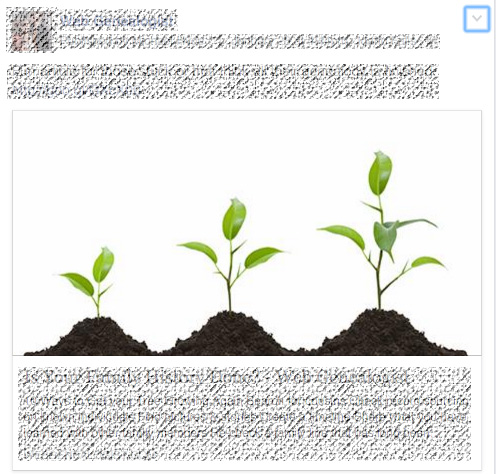 Real World Results
As you probably know, I have a genealogy business. I use my business as my testing ground for new strategies. Let me first give you some background:
Before Group Posts
Average Daily Website Views (no change with boosted post): 30-50
Average Daily Number of Conversions: 1
Facebook Page Likes: 89
Average Facebook Post Reach (Unboosted): 40
Average Facebook Post Engagement – Like, Comment, Share (Unboosted): 3
Average Facebook Post Reach (Boosted): 1,000
Average Facebook Post Engagement – Like, Comment, Share (Boosted): 17
You'll see that my averages are not great, but here is where groups come into the mix:
After Group Posts
Average Daily Website Views: 700+ (most recent was 1000+ – 1300%-1900% increase)
Average Daily Number of Conversions: 12 (1100% increase)
Average Facebook Post Engagement – Like, Comment, Share: 300 (Same post on different groups all added together – 1500%+ increase when compared to a boosted post)
Average Facebook Post Reach: Unknown (another downside, but you can guess it is pretty high)
Once you figure out what people in the group want to see, then it is easy to get amazing results. Just keep joining groups and adding useful content.